Line Up
The Dreadnought body design dates back to the early 1900s. This grandfather of modern guitar body shapes is respectfully represented by the Walden Dreadnought. It delivers the powerful bass, round mids, and crisp trebles expected from this body shape.
Walden's Grand Auditorium body has a slightly wider lower bout than our traditional Dreadnought and a narrower waist and upper bout. The Grand Auditorium speaks with ample bass balanced by clear and brilliant trebles while the rounded contours are visually pleasing and comfortable in your arms.
Walden's "O" body OM guitar is reminiscent of the pre-war guitar for which it is named. Smaller than our "G" body shape, the O body is popular among finger-stylists and female players. A shallower side depth makes it easier to play and contributes to its focused voice, great for a studio "tracking" instrument.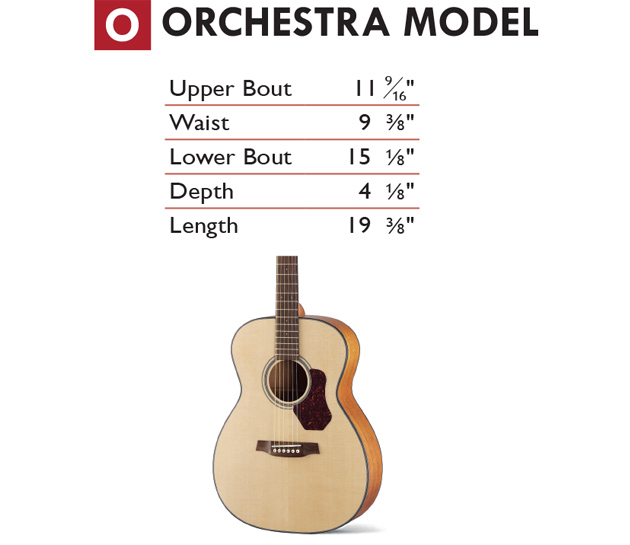 The "T" body shape is a ⅞ sized guitar with a 24-1/8" scale length. The short scale contributes to its easy playability. Similar to a parlor guitar with a slightly wider lower bout, the T is braced appropriately for its shape and produces surprising volume. It has a focused voice, making it particularly pleasing as a solo lead instrument.
The traditional classical guitar body originated in the early 1800s. By the 1920s, Spanish based designs emerged as the standard for the classical guitar. The Walden "N" remains true to its heritage and delivers a voice that has a mellow, singing quality with good bass presence.
A 3/4 size nylon string guitar (590mm scale length) with traditional Spanish fan bracing. Appropriate for elementary school-aged kids and a great transitional instrument for players who are nearly ready to step up to a full-sized instrument.